Over the past 45 years, Motörhead fans across the globe have shown their devotion to the band in prolific ways. Some have travelled the world to see the band, others pay tribute and respect with ink. One artist and fan recently caught our attention with an amazing full back tattoo of Lemmy, Phil Campbell, Mikkey Dee and our iconic mascot above a Bomber headed stage.  When we initially posted this on our Instagram account we got a lot of comments asking "Where is the guy that made this?"  A little digging brought us to find @kingsroadrebecca and we wanted to set it straight.
Video by Oskar Nilsson (www.oncuemedia.se)
Rebecca Ryrberg owns Kingsroad Tattoo in Kristinehamn Sweden, where she lives with her husband and three daughters. She started as a tattoo apprentice in 2001 when she was only 16 years old.  She said, "I did all kinds of styles in the first few years but now I prefer and specialize in photorealism, especially portraits".
"When Tonie first contacted me about his back project I was stoked". "I love Motörhead too and was certain we were gonna have a great time doing this job."  She first spent many hours on her iPad to compose and prepare the images and layout. "Tonie's back isn't small so he had to go through 8 sessions with a total of  60+ hours with needles in his back when I tattooed it. It is one of my absolute favorites!"
Tonie Strandberg has been a fan of hard rock for as long as he can remember. He started listening to rock n' roll and metal when he was growing up in the 80s. When thinking about getting a tattoo, he knew right away that he wanted to feature Lemmy, Phil and Mikkey because that was Motörhead for him.  When asked what does Motorhead mean to him that inspired such a pronounced tribute, Tonie said, "Motörhead is just bad ass rock n roll.  I love the music and I chose to adorn my body with them to show my loyalty, one of the best bands in the world."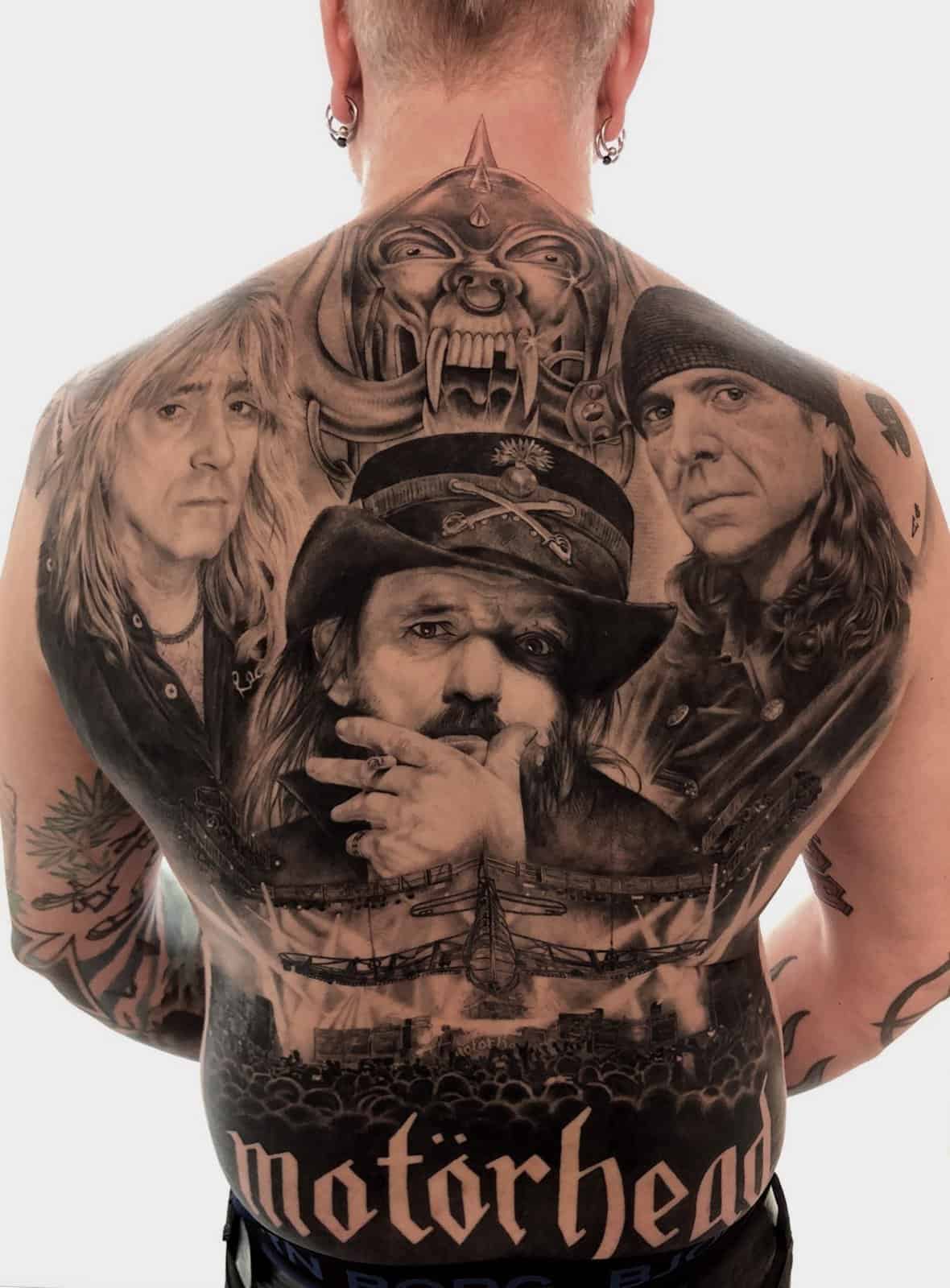 Although Tonie has never met any of the band members, he said he has seen them perform live in concert 6 times. It's a pity that Lemmy did not see the result but Tonie believes he would have been really pleased.  We agree!
He has many favorite tracks but if he had to pick the song that relates to him the most, it would be "Rock 'n Roll."  His most played albums these days are "1916"  and "Under Cover."  The biggest lesson from Lemmy and Motörhead is, "Be your self and don't care what others think."