Before the mighty Motörhead was born in July of 1975 Lemmy was a driving force of the space rock band Hawkwind. Motörhead fans are in for a sonic treat with the crown jewel of vintage live Hawkwind recordings getting a grand treatment this coming September. For those of you not familiar with this era of Lemmy, prepare to blast off in to space!
HAWKWIND have just announced A 50th Anniversary edition of The Space Ritual plus a very special show at THE ROYAL ALBERT HALL on 29 of September. Tickets available HERE!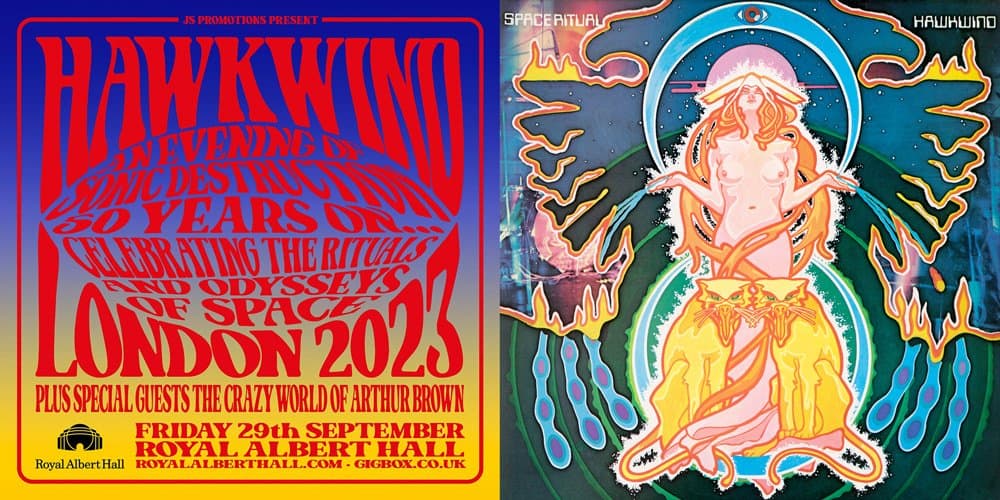 In August 1971, Lemmy joined the space rock band Hawkwind, who were based in Ladbroke Grove, London, as a bassist and vocalist. He had no previous experience as a bass guitarist, and was cajoled into joining immediately before a benefit gig in Notting Hill by bandmate Michael "Dik Mik" Davies. Lemmy states that he originally auditioned for Hawkwind as a guitarist, but on the morning of the Notting Hill gig, they decided not to get another guitarist.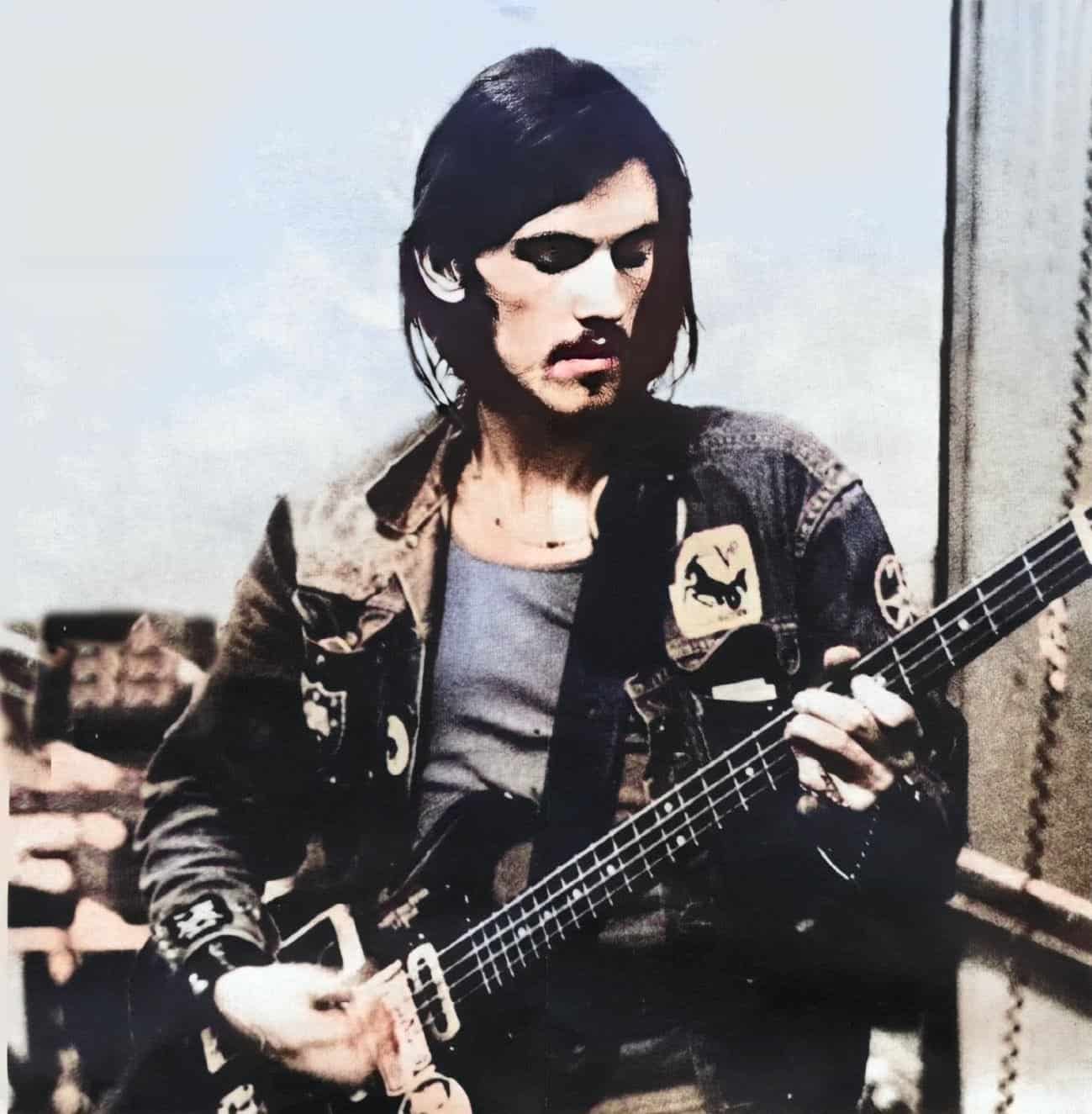 By chance, the bass player did not show up and left his equipment in the van. Lemmy often said, "Their bass player was pretty much saying 'please steal my gig!' So I stole his gig." Lemmy quickly developed a distinctive style that was strongly shaped by his early experience as a rhythm guitarist, often using double stops and chords rather than the single note lines preferred by most bassists. The addition of Lemmy helped propel the band to greater heights. His bass work was a distinctive part of the Hawkwind sound during his tenure. perhaps best documented on the double live album Space Ritual.
The Space Ritual tour followed the huge success of the Silver Machine single (although the song did not feature in the live set) and three concerts were captured on tape by the Pye Records mobile unit.
The resulting double album was adorned with memorable artwork by designer Barney Bubbles and was a Top Ten hit in the UK upon its release in May 1973. Recorded on the band's UK Tour of December 1972, which followed the release of the band's recent studio album DOREMI FASOL LATIDO. The live show was a continuous performance linked by poetry recitation by ROBERT CALVERT and was a complete audio-visual experience. Featuring the dancers Stacia, Miss Renee and Tony Carrera, the concerts also featured an elaborate light show by famed lighting designer Liquid Len.
This 50th-anniversary limited edition deluxe boxed set comprises 10 CDs and a Blu ray disc and features a new remaster of the original album, along with new mixes of all three complete concerts recorded on the tour at Liverpool Stadium, Sunderland Locarno and Brixton Sundown, all mixed by Stephen W Tayler.

The set also includes a stunning 5.1 Surround Sound mix of the album, along with a new stereo mix of the album, including the complete unedited versions of Brainstorm and Time We Left This World Today and the encore of You Shouldn't Do That. The set is completed with a 68 page illustrated book with new essay and a reproduction of the rare Space Ritual poster format tour programme, making this boxed set the definitive release and this legendary album.
Click here to order!
Super Deluxe 10CD/Blu-Ray Edition
Double Gatefold Transparent Vinyl Edition or the 2CD Edition
In May 1975, during a North American tour, Lemmy was arrested at the Canadian border in Windsor, Ontario, on drug possession charges. The border police mistook the amphetamine he was carrying for cocaine and he was kept overnight in jail before being released without charge. The band and management were concerned that his arrest might stop the band from crossing back into the United States, even though he had been released without charge. They were also tired of what they saw as his erratic behaviour, so they decided to fire him and soon after Motörhead was born!
He once said of Hawkwind: "I did like being in Hawkwind, and I believe I'd still be playing with them today if I hadn't been kicked out. It was fun onstage, not so much offstage. They didn't want to mesh with me. Musically, I loved the drummer, the guitar player. It was a great band."
· A DELUXE 11 DISC LIMITED EDITION BOXED SET OF THE CLASSIC 1973 LIVE ALBUM BY HAWKWIND
· THE ORIGINAL IS ALBUM NEWLY REMASTERED FROM THE ORIGINAL MASTER TAPES
· WITH NEW MIXES FROM THE ORIGINAL 16-TRACK MASTER TAPES OF THE FULL CONCERTS AT LIVERPOOL STADIUM, SUNDERLAND LOCARNO & BRIXTON SUNDOWN BY STEPHEN W. TAYLER
· INCLUDES A REGION FREE BLU RAY DISC OF A STUNNING HIGH RESOLUTION 5.1 SURROUND SOUND MIX OF THE THE ALBUM WITH THE COMPLETE VERSIONS OF BRAINSTORM, TIME WE LEFT THIS WORLD TODAY & YOU SHOULDN'T DO THAT BY STEPHEN W TAYLER
· ALSO INCLUDES A REPRODUCTION OF THE RARE SPACE RITUAL POSTER FORMAT TOUR PROGRAMME·
ALSO AVAILABLE ON DOUBLE TRANSPARENT VINYL AND 2CD EDITION·
THE BAND ARE PLAYING A SPECIAL SHOW AT THE ROYAL ALBERT HALL ON THE 29th SEPTEMBER
Disc One: "Space Ritual" The original album re-mastered
1. Earth Calling (Original album mix)
2. Born to Go (Original album mix)
3. Down Through the Night (Original album mix)
4. The Awakening (Original album mix)
5. Lord of Light (Original album mix)
6. Black Corridor (Original album mix)
7. Space is Deep (Original album mix)
8. Electronic No. 1 (Original album mix)
Disc Two: "Space Ritual" The original album re-mastered
1. Orgone Accumulator (Original album mix)
2. Upside Down (Original album mix)
3. 10 Seconds of Forever (Original album mix)
4. Brainstorm (Original album mix)
5. Seven by Seven (Original album mix)
6. Sonic Attack (Original album mix)
7. Time We Left This World Today (Original album mix)
8. Master of the Universe (Original album mix)
9. Welcome to the Future (Original album mix)
Disc Three: Liverpool Stadium 22nd December 1972 New mix – previously unreleased
1. Earth Calling (Liverpool 22.12.1972)
2. Born to Go (Liverpool 22.12.1972)
3. Down Through the Night (Liverpool 22.12.1972)
4. The Awakening (Liverpool 22.12.1972)
5. Lord of Light (Liverpool 22.12.1972)
6. Black Corridor (Liverpool 22.12.1972)
7. Space is Deep (Liverpool 22.12.1972)
8. Electronic No. 1 (Liverpool 22.12.1972)
9. Orgone Accumulator (Liverpool 22.12.1972)
10. Upside Down (Liverpool 22.12.1972)
Disc Four: Liverpool Stadium 22nd December 1972 New mix – previously unreleased
1. 10 Seconds of Forever (Liverpool 22.12.1972)
2. Brainstorm (Liverpool 22.12.1972)
3. Seven by Seven (Liverpool 22.12.1972)
4. Sonic Attack (Liverpool 22.12.1972)
5. Time We Left This World Today (Liverpool 22.12.1972)
6. Master of the Universe (Liverpool 22.12.1972)
7. Welcome to the Future (Liverpool 22.12.1972)
8. You Shouldn't Do That (Liverpool 22.12.1972)
Disc Five: Locarno Sunderland 23rd December 1972 New mix – previously unreleased
1. Earth Calling (Sunderland 23.12.1972)
2. Born to Go (Sunderland 23.12.1972)
3. Down Through the Night (Sunderland 23.12.1972)
4. The Awakening (Sunderland 23.12.1972)
5. Lord of Light (Sunderland 23.12.1972)
6. Black Corridor (Sunderland 23.12.1972)
7. Space is Deep (Sunderland 23.12.1972)
8. Electronic No. 1 (Sunderland 23.12.1972)
9. Orgone Accumulator (Sunderland 23.12.1972)
10. Upside Down (Sunderland 23.12.1972)
Disc Six: Locarno Sunderland 23rd December 1972 New mix – previously unreleased
1. 10 Seconds of Forever (Sunderland 23.12.1972)
2. Brainstorm (Sunderland 23.12.1972)
3. Seven by Seven (Sunderland 23.12.1972)
4. Sonic Attack (Sunderland 23.12.1972)
5. Time We Left This World Today (Sunderland 23.12.1972)
6. Master of the Universe (Sunderland 23.12.1972)
7. Welcome to the Future (Sunderland 23.12.1972)
Disc Seven:
Brixton Sundown, London 30th December 1972
1. Earth Calling
2. Born to Go
3. Down Through the Night
4. The Awakening
5. Lord of Light
6. Black Corridor
7. Space is Deep
8. Electronic No. 1
9. Orgone Accumulator
Disc Eight:
1. Brixton Sundown, London 30th December 1972
2. Brainstorm
3. Seven by Seven
4. Sonic Attack
5. Time We Left This World Today
6. Master of the Universe
7. Welcome to the Future
8. You Shouldn't Do That
Disc Nine: Space Ritual 50th Anniversary Stereo Remix by Stephen W Tayler
1. Earth Calling (new stereo mix)
2. Born to Go (new stereo mix)
3. Down Through the Night (new stereo mix)
4. The Awakening (new stereo mix)
5. Lord of Light (new stereo mix)
6. Black Corridor (new stereo mix)
7. Space is Deep (new stereo mix)
8. Electronic No. 1 (new stereo mix)
9. Orgone Accumulator (new stereo mix)
10. Upside Down (new stereo mix)
Disc Ten: Space Ritual 50th Anniversary Stereo Remix by Stephen W Tayler
1. 10 Seconds of Forever (new stereo mix)
2. Brainstorm (new stereo mix)
3. Seven by Seven (new stereo mix)
4. Sonic Attack (new stereo mix)
5. Time We Left This World Today (new stereo mix)
6. Master of the Universe (new stereo mix)
7. Welcome to the Future (new stereo mix)
8. You Shouldn't Do That (new stereo mix)
Disc Eleven: Blu-ray
Space Ritual 96 kHz / 24-bit 5.1 mix & new stereo mix By Stephen W Tayler
1. Earth Calling (5.1 Surround mix)
2. Born to Go (5.1 Surround mix)
3. Down Through the Night (5.1 Surround mix)
4. The Awakening (5.1 Surround mix)
5. Lord of Light (5.1 Surround mix)
6. Black Corridor (5.1 Surround mix)
7. Space is Deep (5.1 Surround mix)
8. Electronic No. 1 (5.1 Surround mix)
9. Orgone Accumulator (5.1 Surround mix)
10. Upside Down (5.1 Surround mix)
11. 10 Seconds of Forever (5.1 Surround mix)
12. Brainstorm (5.1 Surround mix)
13. Seven by Seven (5.1 Surround mix)
14. Sonic Attack (5.1 Surround mix)
15. Time We Left This World Today (5.1 Surround mix)
16. Master of the Universe (5.1 Surround mix)
17. Welcome to the Future (5.1 Surround mix)
18. You Shouldn't Do That (5.1 Surround mix)